The resources listed here will help you to worship at home if you aren't able to get to church.
Most links are to external websites and open in a new tab.
---
Services and prayers for use at home
Worship during the coronavirus pandemic
The official Methodist Church listing includes: service sheets for use at home; links to live-streamed services; prayers for the bereaved, and for when you can't get to a funeral; and resources for personal prayer and Bible study.
---
Take Five
The Revd Chris Morley, a retired Methodist minister in our circuit, publishes a daily video Take Five. Each short daily thought is a suggestion for how we might grow spiritually and come closer to God by reflecting that day on a particular theme. Chris writes: 'I'm inviting people to Take Five minutes each day to join me. I hope if you do, you will find it a contribution to the deepening of your faith during these strange days.'
---
Daily Hope - free 24-hour phone line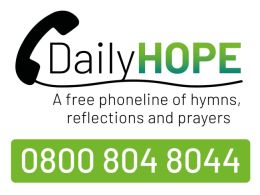 DailyHope, a free national telephone line, offers music, prayers and reflections as well as full worship services from the Church of England at the end of the phone.
---
Some live-streamed and video services
Trinity Church, Sutton
Trinity's Sunday services are live-streamed at 10.30 am each Sunday, and are available subsequently.
Epsom Methodist Church
Online Sunday services are available on Epsom's YouTube channel.
Church online
Weekly online services from the Church of England, streamed each Sunday at 9.00 am. This page also lists a range of other resources.
---
Rosemary and Philip's blog
During the first lockdown, Rosemary and Philip Richter wrote a weekly blog to enable us to share a meditation.
---
Video services
During the third lockdown our preachers provided a short video service each week.